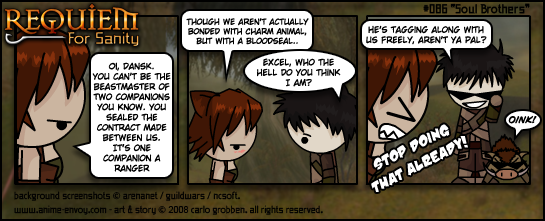 Author's Notes:
Starting up with a new approach on textballoons. Think it looks a bit cleaner using rectangled balloons for long text or things that don't go round nicely.
SOUL BROTHERS, OINK! WHO THE HELL DO YOU THINK WE ARE!?
27 Febuary 2008
---
Copyright © 2005 - 2021 Carlo Grobben. All rights reserved. Layout based on that of the Guild Wars website of 2006.
Guild Wars™ is © copyright of Arenanet and NCSoft. The rest is copyright of their original creators.